Thank you for registering to receive additional information about the health benefits of Sweet'N Low® to share with your patients and clients.  Please enjoy the latest issue of our quarterly e-Newsletter, developed specifically for health professionals like you!
Diabetes Corner: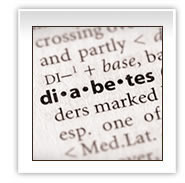 A Focus on Promoting Healthy Foods – Not Discouraging Unhealthy Foods – Is More Effective in Preventing Metabolic Syndrome in Teens
Researchers from Michigan State recently published a study in the Journal of the American Dietetic Association (JADA)suggesting that consumption of fiber-rich plant foods is more important in guarding against Metabolic Syndrome (MetS) in teens than restricting high-saturated fat foods. The data, sourced from the National Health and Nutrition Examination Survey (NHANES), examined the eating habits of more than 2,100 teens and assessed how intake of fiber and saturated fat affected incidence of MetS.
According to the findings, incidence of MetS was three times greater in the group receiving the least dietary fiber compared to those receiving the highest daily fiber intake. Conversely, there was no significant link between MetS and intake of saturated fat or cholesterol.
This study offers additional evidence that dietary counseling that focuses on which foods to eat, as opposed to which foods to avoid is far more beneficial in the long run.
Nutrition Notes:
Are Commercial Weight Loss Programs More Effective than Primary Care Interventions?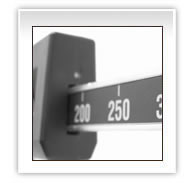 A recent study published in the British Medical Journal showed that popular commercial weight loss programs like Weight Watchers were more effective (and significantly cheaper) than primary care interventions at helping patients achieve weight loss. The UK-based study followed 740 obese or overweight dieters participating in one of six programs, including: 3 commercial programs, a group-based counseling program, and a variety of one-on-one counseling scenarios led by trained staff. A control group was provided vouchers to a local fitness center, but received no individualized instruction.
At 12 weeks follow-up, all programs showed significant weight loss from baseline, but only the commercial programs showed significantly greater weight loss as compared to the control group.  A secondary analysis, which observed weight status at one-year follow-up, revealed that participants in the primary care treatment groups did not maintain significant weight loss from baseline, while those in the Weight Watchers program still showed significant weight loss as compared to baseline and as compared to the control group.
The study authors note that attendance was highest for Weight Watchers and lowest for the primary care programs, which likely affected the outcomes.
Recipe RoundUp: Give Thanks & Cut Carbs
Deep-Dish Apple Pie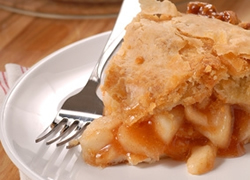 (Makes 10 servings)

Filling:
3-1/2 pounds red cooking apples, peeled, cored and sliced
1/3 cup sugar
1/4 cup all-purpose flour
1 tablespoon lemon juice
4 packets Sweet 'N Low® granulated sugar substitute
1 teaspoon ground cinnamon
1 teaspoon grated lemon peel
1/4 teaspoon ground nutmeg
1/4 teaspoon salt
Pastry:
1 cup all-purpose flour
1/2 packet Sweet 'N Low®
1/3 cup margarine or butter
2-3 tablespoons cold water
1-2 teaspoons skim milk

Prepare pastry: In medium size bowl, combine flour and Sweet 'N Low. With pastry blender or two knives used scissor fashion, cut in margarine (or butter) until mixture resembles coarse crumbs. Add cold water, 1 tablespoon at a time, until mixture just holds together. On lightly floured surface with floured rolling pin, roll out dough into a 10-inch square. Fit pastry over apples. Fold overhang under; make fluted edge. Make several slits in pastry for steam to escape. Brush pastry with skim milk. Bake about 10 minutes; reduce oven temperature to 350°F. Bake 35-40 minutes or until golden brown.
Per Serving: (1 slice): 195 calories, 7 g fat, 35 g carbohydrates, 2 g protein,  60 mg sodium
Cornbread with a Kick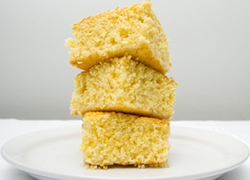 (Makes 16 servings)

1 cup quinoa
13/4 cups yellow cornmeal
11/2 teaspoons baking powder
1 teaspoon salt
1/2 teaspoon baking soda
1/2 teaspoon Sweet'N Low®
1 1/2 cups buttermilk
1/4 cup liquid egg substitute
3 tablespoons canola oil
1/3 cup finely chopped red pepper
1/4 cup finely chopped and seeded jalapeño pepper  

Preheat oven to 425°F. Spray 9-inch baking pan with nonstick cooking spray.
In blender, process quinoa until medium-fine grain. Pour into a large bowl and add cornmeal, baking powder, salt, baking soda, and Sweet' N Low. In medium bowl, combine buttermilk, egg substitute, and oil, blending well. Add buttermilk mixture to cornmeal mixture, stirring to combine. Stir in peppers and spoon into prepared baking pan.
Bake 15 to 20 minutes or until middle tests done. Cool slightly before removing from pan to serve.
Per Serving: (1 square): 130 calories, 4 g fat (1 g saturated fat), 20 g carbohydrates, 4 g protein, 2 g dietary fiber ,  470 mg sodium
In Recognition of Diabetes Awareness Month Your Friends at Sweet'N Low Are Offering Complimentary Coupons & Product Samples for Your Patients

As you know, nutrition therapy for patients diagnosed with diabetes, or at risk for developing the disease, typically focuses on helping to make small, simple dietary changes that can easily be incorporated into a daily routine. For over 50 years, zero-calorie Sweet'N Low has offered consumers around the globe an opportunity to enjoy sweet foods and beverages while cutting calories and managing carbohydrate intake. With just 1 gram of carbohydrate per serving, Sweet'N Low will not raise blood glucose or insulin, and can be used in conjunction with food exchange programs for people with diabetes. Please visit us at www.sweetnlowprofessional.com to request free samples and coupons to share with your clients.
Share Your Sweet'N Low Success Story

Are you working with an individual who has an inspiring story to share regarding successful weight loss efforts or diabetes management? If so, contact us and we will consider featuring the story in a future issue of the e-Newsletter.
© Copyright 2011 Cumberland Packing Corp.
For questions or comments, email info@sweetnlowprofessional.com
Permission to reprint information on this site in whole or in part is granted, provided customary credit is given.