Thank you for registering to receive additional information about the health benefits of Sweet'N Low to share with your patients and clients. Please enjoy the latest issue of our e-Newsletter, developed specifically for health professionals like you!
Shocking New Development! Do Low Calorie Sweeteners really make you hungry? How do they affect food intake? What does the science really say . . .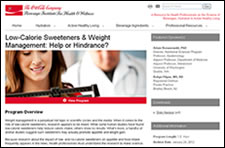 Check out this 1 hour pre-recorded Webinar on
Low-Calorie Sweeteners & Weight Management: Help or Hindrance?

Listen to leading obesity experts Adam Drewnowski PhD and registered dietitian Robin Flipse as they bust some myths on low calorie sweeteners and present the latest surprising research as it relates to appetite. Slide Show Included.

Sponsored by the Beverage Institute for Health and Wellness
Diabetes Corner:
To Keep Insulin Resistance Down – Get Some Sleep!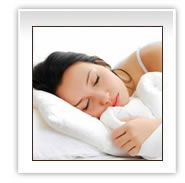 We know that not getting enough sleep affects cognitive function but now a recent study published in the Annals of Internal Medicine found sleep deprivation can affect energy metabolism by specifically impacting fat cells.  The study which assessed insulin levels at the molecular level found the fat cells of people who didn't get enough sleep were 30 percent less sensitive to insulin than the fat cells of those people who were well rested.

If fat cells cannot respond effectively to insulin, they will be unable to remove fatty acids and lipids from circulation. These lipids can then leach out into the blood stream and lead to serious complications.  In this study, after four nights of short sleep (4.5 hours in bed) both adult male and female subjects showed a total body insulin response decrease of an average of 16 percent, with fat cells sensitivity specifically dropping by 30 percent. This effect was not seen when subjects spent 8.5 hours a night in bed.

Bottom line:  Get enough sleep every night!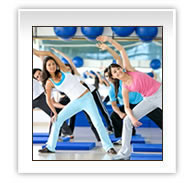 Healthy Habits: Women Who Exercise Regularly Still Exhibit Risk Factor Associated with Sedentary Lifestyle
If you want to live longer go for a walk, a run or a bike ride.  Researchers at the National Cancer Institute analyzed leisure-time physical activity data on more than 650,000 adults in a 2012 study published in PLoS Medicine and found that the more people adhered to US Department of Health and Human Services (US DHHS) recommendations the longer their life expectancy.

US DHHS recommends adults age 18 to 64 years engage in regular aerobic physical activity for 2.5 hours a week (or about half hour a day, five days a week) at moderate intensity.  At this level of activity this study estimated that life expectancy increased by 3.4 years relative to those who were sedentary.  Even those people who got half the recommendations (15 minutes of physical activity a day) still improved their life span, increasing longevity by almost 2 years. 
Bottom line: physical activity, even in modest amounts can still add years to your life.

Recipe Roundup!
As the Weather Gets Warmer, Lighten Up Your Menu with These Three Quick and Easy Light Recipes
Yogurt Fruit Salad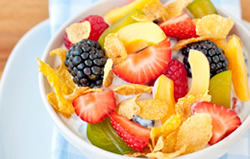 (Makes 6 servings)
Enjoy this colorful, fruit salad when you want something light and you're on the run. With contrasting textures and flavors this healthy and delicious salad is easy to make ahead of time.

Ingredients
1 medium-size red Delicious apple, diced
3 oranges, peeled and sectioned
1 tablespoon lemon juice
3 packets Sweet'N Low zero calorie sweetener
1 container (8 ounces) plain low-fat yogurt
2 medium-sized bananas, peeled and sliced
1/2 cup chopped pecans
In large bowl, combine yogurt, Sweet'N Low, and lemon juice. Add fruit and pecans, tossing to coat thoroughly. Chill.
PER SERVING: 173 calories, 27 g carbohydrates, 2 mg cholesterol,  4 g protein, 29 mg sodium.
Mexican Scrambled Eggs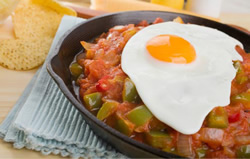 (Serves 4)

You can whip up this quick and easy weeknight dinner or Sunday morning brunch in minutes.  If you like it spicy add a chopped green jalapeno or a dash of cayenne  to the tomato mixture.

Ingredients
1/2 cup chopped onion
2 ounces reduced-fat cheddar cheese, shredded
1/4 teaspoon Sweet'N Low zero calorie sweetener
1/4 teaspoon garlic powder
1/3 cup low fat milk
2 egg whites
4 eggs
1 fresh tomato, diced
1 can (4 ounces) diced mild green chilies, drained
1 tablespoon reduced-calorie margarine
Chopped green onion and minced fresh parsley for garnish
1. In shallow 8- or 9-inch round microwave dish, cook onions and margarine, covered, on high power 2 minutes. Stir in chilies and tomato; cook, uncovered, 1 minute.

2. In medium size bowl, beat together eggs, egg whites, milk, garlic powder and Sweet'N Low; pour over vegetables. Continue cooking, uncovered, 4 to 5 minutes, stirring frequently to move mixture from outside of dish toward center.

3. Just before eggs are firm, sprinkle with cheese. Do not overcook, as mixture will continue to cook after being removed from microwave.

4. Sprinkle with green onion and parsley. Serve immediately.

PER SERVING: 163 calories, 3 g saturated fat, 7 g carbo;hydrates, 218 mg cholesterol,  13 g protein,  344 mg sodium.
Cream of Tomato Soup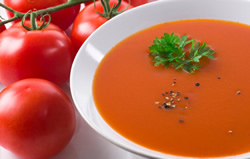 (Serves 6)
This soup tastes rich and creamy without the extra fat and calories in most traditional recipes.

Ingredients
2 tablespoons minced onion flakes
1 can (46 ounces) tomato juice, divided
1 cup instant non-fat dry milk
2 whole cloves
1 bay leaf
1/2 teaspoon salt
1/2 teaspoon basil
2 teaspoons distilled white vinegar
2 tablespoons chopped fresh parsley
1 packet Sweet'N Low zero calorie sweetener
Place milk powder in bowl. Gradually add 1 1/2 cups tomato juice, stirring to form a smooth paste. Set aside. In large saucepan, combine remaining tomato juice and other ingredients, except Sweet'N Low, and simmer about 5 minutes. Remove bay leaf and cloves. Pour some of the hot liquid into the tomato-milk paste; stir, then pour mixture back into saucepan. Heat slowly, stirring constantly, to serving temperature. Do not boil. Stir in Sweet'N Low.
PER SERVING:  86 calories, 17 g carbohydrates, 2 mg cholesterol,  6 g protein,  1090 mg sodium.
Visit us on Facebook at:





Follow us on Twitter at:



© Copyright 2013 Cumberland Packing Corp.
For questions or comments, email info@sweetnlowprofessional.com
Permission to reprint information on this site in whole or in part is granted, provided customary credit is given.