Thank you for registering to receive additional information about the health benefits of Sweet'N Low to share with your patients and clients. Please enjoy the latest issue of our e-Newsletter, developed specifically for health professionals like you!
Diabetes Corner: Another Benefit of Increasing Fruit & Veggie Intake: Lower Diabetes Risk
Eating fruits and vegetables has long  been linked to decreased risk for obesity and cancer, and now a new study published in Diabetes Care adds type 2 diabetes prevention to the growing list of produce benefits.  The UK study, which surveyed more than 3,700 adults, reports that subjects who ate the largest quantity of fruits and vegetables each week, and the most variety of produce, had a reduced incidence of type 2 diabetes after 11 years.
Notable  findings reported by the researches include the following:
Subjects with the highest consumption of fruits and veggies (about 6 servings a day) had a 16% incidence of type 2 diabetes, versus a reported incidence of 21% for subjects who consumed the least (about 2 servings per day)
After adjusting for education, weight, exercise and smoking habits, high fruit and vegetable consumption was shown to reduce risk of type 2 diabetes by 21% overall
Variety was key: eating roughly 16 different types of fruits and veggies each week, reduced risk of developing diabetes by 40% compared to those who ate only 8 different varieties
"Move More, Eat Less" Still King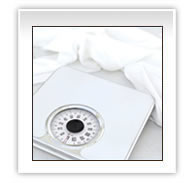 The tried and true advice to exercise more and eat less remains the best strategy for achieving weight loss, according to a recently published study in the American Journal of Preventive Medicine. Per the research, which collected information from over 4000 obese adults via the National Health and Nutrition Examination Survey (NHANES),products marketed for weight loss – including liquid diets and non-prescription weight loss pills – were not associated with long term weight loss.
Strategies associated with losing 5% body weight or more included: eating less fat, exercising more, and using prescription weight loss medications
Joining a commercial weight loss program was associated with losing 10% body weight or more
Those eating "diet" products were not likely to achieve 10% weight loss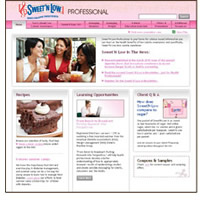 Your Friends at Sweet'N Low Are Offering Complimentary Coupons & Product Samples for Your Patients
For over 50 years, zero-calorie Sweet'N Low has offered consumers around the globe an opportunity to enjoy sweet foods and beverages while cutting calories and reducing carbohydrate load. One packet of Sweet'N Low is as sweet as two teaspoons of sugar, but unlike sugar, which has 16 calories and 4 grams carbohydrate per teaspoon, Sweet'N Low has less than 4 calories per packet and just 1 gram of carbohydrate per serving.
Please visit us at www.sweetnlowprofessional.com to request free samples and coupons to share with your clients.
Recipe RoundUp: Celebrate National Strawberry Month!
What better way to enjoy the bountiful strawberry crop this time of year than these delicious, reduced-calorie, low-sugar recipes. Sample a selection of our favorite recipes featuring strawberries below.
Double-Thick Strawberry Shake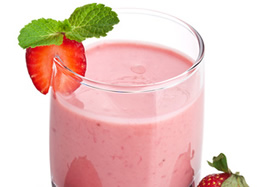 (Makes 2 serving)

1 can (12 ounces) diet cream soda
2/3 cup instant non-fat dry milk
2 packets Sweet 'N Low®
1 teaspoon vanilla
1 cup frozen strawberries

Combine all ingredients except strawberries in blender. Cover and process on low speed 5 seconds. Add strawberries gradually, processing several seconds between additions. When all strawberries are added, cover blender and process on high 5 to 10 seconds.
Strawberry Jam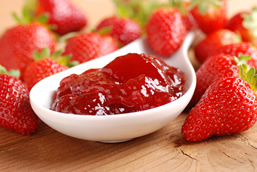 (Makes 4, 8-ounce jars)

3 1/2 pints ripe strawberries
1 cup water
4 teaspoons unflavored gelatin
1 tablespoon Sweet 'N Low®

Rinse and hull strawberries. Crush strawberries with back of large wooden spoon, or in a food processor or blender; reserve. Pour water into small saucepan and sprinkle gelatin over top. Let stand 1 minute. Heat over low heat 1 minute or until gelatin is completely dissolved. Remove from heat. Add strawberries and Sweet 'N Low and mix well. Pour into 4 hot, sterilized, 8-ounce jars. Seal tightly and allow to cool. Freeze. Thaw before serving. Keeps in refrigerator up to 2 weeks.

Note:  Sweet 'N Low provides only the sweetening and not the preserving qualities of sugar. Jams and spreads made with Sweet' N Low must be refrigerated and used within 2 weeks if not frozen.
Sangria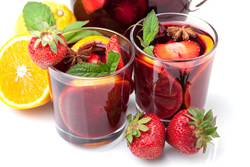 (Makes 20, 4-ounce servings)

Juice of 1 orange
Juice of 1 lemon
¼ cup lime juice
1 bottle (1.5 liters) burgundy or other red wine
½ teaspoon Sweet 'N Low®
3 ½ cups seltzer
1 orange, chilled and cut into wedges
1 lemon, chilled and sliced
½ cup fresh strawberry slices

In large pitcher or punch bowl, stir together juices, wine, and Sweet 'N Low until Sweet 'N Low dissolves; refrigerate until well chilled. Just before serving, add seltzer, orange wedges, lemon slices, and strawberry slices.
Visit us on Facebook at:




Follow us on Twitter at:


© Copyright 2012 Cumberland Packing Corp.
For questions or comments, email info@sweetnlowprofessional.com
Permission to reprint information on this site in whole or in part is granted, provided customary credit is given.