Thank you for registering to receive additional information about the health benefits of Sweet'N Low to share with your patients and clients. Please enjoy the latest issue of our e-Newsletter, developed specifically for health professionals like you!
Spotlight on Sweetness:
We asked Dr. Abe Bakal, Chief Technical Advisor for Sweet'N Low, to share his wealth of knowledge and history on our favorite little pink packets in this two-part interview series. See below for Part One of the interview with Dr. Bakal. Watch for Part Two in the September issue of this newsletter, where Dr. Bakal separates facts from fiction relative to saccharin, the main sweetening ingredient of Sweet'N Low.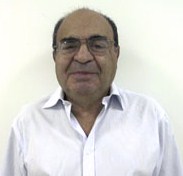 You have been working with the Sweet'N Low brand for many years. Tell us, what's so special about Sweet'N Low? Well, aside from being the longest on the market with more than 55+ years of history behind the iconic brand, Sweet'N Low is the most stable sweetener which means that unlike other types of sweeteners, it does not breakdown and lose sweetness when exposed to heat or light. It can be used in a wide variety of foods and beverages and you can even cook with it.

What is the history of Sweet'N Low? Sweet'N Low has a very fascinating story woven in American heritage that I don't think very many people are aware of. The story begins at the end of WWII with Ben Eisenstadt and his humble Brooklyn Navy Yard Café.
Although once a bustling hot spot for Brooklyn Navy Yard servicemen, Ben's cafeteria lost most of its clientele once the war ended. With 4 kids and 2 newly immigrated in-laws to support, Ben needed another income quickly.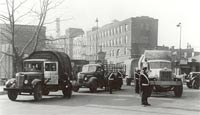 One day while having lunch at a diner, Ben's wife noticed that everyone was using the same fly-swarmed sugar bowl to sweeten their coffee. Noting his wife's disgust, Ben thought back to his childhood days working at a tea factory, and alas came up with the idea for revamping a tea bagging machine to create sugar packets! Ben did well with his new business but the real win would come just a few years later, quite unexpectedly.

Ben's son, Marvin, had recently returned home from college after finishing his service in the US military and began helping his dad with the family business. One day, dad and son were bouncing around ideas, when Marvin recalled an article he had recently read in a baker's magazine that talked about alternatives to sugar. Knowing that there was a need in the market for such a product, Marvin used his college training to develop a recipe for Sweet'N Low and a star was born!

Sweet'N Low was packaged in pink paper to stand out in the sugar bowl and was named after Ben's favorite song. Over 3 generations, the family-owned company has stayed true to its heritage – staying local in the Brooklyn area, the same spot where Ben's cafeteria once stood, and employing the local community to make the Sweet'N Low product. Today, Sweet'N Low is available in more than 50 countries worldwide and has helped millions of people manage their weight by sweetening food and beverages without added sugars and unnecessary calories.

What is your favorite way to use Sweet'N Low?
I love Sweet'N Low and have been using it every day in my coffee and chai tea for decades. I also LOVE the Sweet'N Low Almond Meringue cookies – they are perfectly sweet and crunchy…and surprisingly diabetic-friendly with only 1g carbohydrate per serving! You can get this and other delicious recipes by visiting www.sweetnlow.com/recipes. Enjoy!
***For the 2nd part of this interview, watch for our September email e-blast issue in your inbox.***
Recipes
Cherry Vanilla Protein Smoothie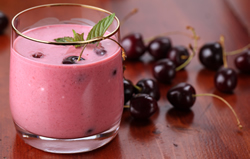 (Makes 2 servings)

Ingredients

1 (6-ounce) cup fat-free plain Greek yogurt
3/4 cup frozen cherries
1/2 cup fat-free milk
2 packets Sweet'N Low® zero calorie sweetener
1/2 teaspoon vanilla extract
2 tablespoon chia seeds

Place the yogurt, cherries, milk, Sweet'N Low zero calorie sweetener and vanilla in a superblender or blender and whirl until combined. Add the chia seeds and whirl until the smoothie is creamy. Serve immediately.

Makes 2 servings. Per serving: 178 Calories, 1 mg Cholesterol, 70 mg Sodium, 22g Carb, 13g Protein, 6g Dietary Fiber
Tequila Shrimp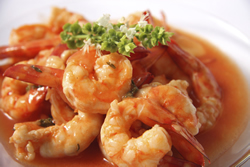 (Makes 4 servings)

Ingredients

2 tablespoons tequila
2 tablespoons orange juice
1 garlic clove, finely chopped
1 teaspoon dried oregano
1/8 teaspoon cayenne pepper, or to taste
1/2 teaspoon salt
Freshly ground pepper
1 tablespoon canola oil
3/4 pound extra large (26-30 count) shrimp, peeled
1 red onion, in 1/2-inch crescents, about 1 cup
1 medium yellow or orange bell pepper, in 1/2-inch strips
1 small poblano pepper, in 1/2-inch strips
1 (15-ounce) can no salt - diced tomatoes
1 packet Sweet'N Low® zero calorie sweetener
1/4 cup chopped cilantro, optional, for garnish

In a 1-gallon resealable plastic bag, combine the tequila, orange juice, garlic, oregano, cayenne pepper, salt, 3-4 grinds pepper, and shake to dissolve the salt.  Add the oil and shake again. Add the shrimp to the marinade and re-seal the bag. Massage gently to coat the shrimp with the marinade. Set the bag on a plate and refrigerate for 30 minutes, turning the bag over twice during that time.

Set a skillet over medium-high heat. Transfer the shrimp and marinade sauce from the bag to the skillet. Stirring occasionally, cook until the shrimp look pink, (approx. 3 minutes). Add the onions and peppers and cook, stirring, until the onions are translucent, (approx. 3 minutes). Add the tomatoes (with their liquid), and the Sweet'N Low zero calorie sweetener. Stirring occasionally cook until the shrimp are done, (approx. 5 minutes).

To serve, divide Tequila Shrimp among 4 dinner plates. Garnish with the cilantro, if desired. Serve immediately.  

Makes 4 servings. Per serving: 206 Calories, 165.8 mg Cholesterol, 438 mg Sodium, 17g Carb, 21g Protein
Strawberry Almond Smoothie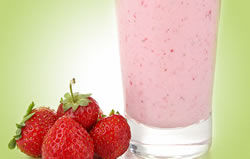 (Makes 2 servings)

Ingredients

1 cup frozen strawberries
1/2 small banana, frozen
1 cup unsweetened almond milk
1/4 cup lite silken tofu
2 packets Sweet'N Low® zero calorie sweetener
1/8 teaspoon almond extract
Place the berries, banana, almond milk, tofu, Sweet'N Low® zero calorie sweetener, and almond extract in a superblender or blender and whirl until smooth. Serve immediately

Makes 2 servings. Per serving: 100 Calories, 40 mg Sodium, 16g Carb, 7g Protein, 4g Dietary Fiber
Visit us on Facebook at:





Follow us on Twitter at:



© Copyright 2013 Cumberland Packing Corp.
For questions or comments, email info@sweetnlowprofessional.com
Permission to reprint information on this site in whole or in part is granted, provided customary credit is given.